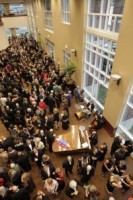 The Lexington Herald-Leader was there at the gala opening of the EKU Center!
via Kentucky.com: "RICHMOND — Eastern Kentucky University's dot on the state arts map got a lot bigger Friday night with the opening of the long-anticipated EKU Center for the Arts.
"Communities and regions and states have life-changing events," university president Doug Whitlock said on the stage of the new theater before a performance by the Owensboro Symphony Orchestra. "And if I'm not badly mistaken, tonight is one of those for Richmond, Madison County and the Commonwealth of Kentucky."
With 2,100 seats, the theater is the largest performing arts venue in Central Kentucky — larger than Lexington's Singletary Center for the Arts at the University of Kentucky and Danville's Norton Center for the Arts at Centre College.
The EKU center will open to the public in two weeks with a Sept. 24 performance by Kentucky native and onetime Richmond resident Wynonna Judd.
On Friday night, an invited audience enjoyed Cirque de la Symphony, the Eastern Kentucky University Choir, the American Spiritual Ensemble and Nick Clooney, who narrated a performance of Aaron Copland's A Lincoln Portrait.
The crowd included many state and local arts and government officials, including Kentucky first lady Jane Beshear, U.S. Rep. Ben Chandler, and Kentucky Arts Council executive director Lori Meadows.
Reflecting on the fact that the center, costing more than $30 million, was built during an economic recession, Meadows said, "It says that people want the arts in their community and that this is really important to them."
Read the full article:
http://www.kentucky.com/2011/09/10/1876220/curtain-rises-on-30-million-eku.html#ixzz1Y7gd9s8g